Machine_ claimed multiple awards, including two gold awards, across various categories at the 2023 New Gen Awards for its content marketing and digital publishing as well as social-media campaigns.  
The New Generation Social & Digital Media awards ceremony took place on 27 September in Johannesburg, awarding South Africa's top marketing and creative agencies for best-in-class digital campaigns and content. The awards body sets out to recognise and give kudos to brands and agencies at the forefront of SA's future of communications, media and digital technologies. 
Machine_ proudly took home six awards for clients Sanlam, Sanlam Reality, Nutun and Spotify. "Our New Gen winners range from internal comms and content marketing to digital publishing and social media. This is testament to the depth and breadth of what Machine_ does and how we continue to deliver excellence across the board," says Jabulani Sigege, Machine_ Executive Creative Director.   
What Machine_ Won at 2023 New Gen
1. Gold for best Digital Publication – Nutun "ngage" issue 54
2. Gold for Best Marketing Automation – Sanlam Reality's digital marketing acquisition campaign
3. Silver for Best Digital Publication – Sanlam Group's "Sanlam Connect" digital magazine for employees
4. Bronze for Blogging Excellence – Sanlam Reality's financial content portal: "Wealth Sense"
5. Bronze for Best Influencer Marketing Campaign by an Agency – Spotify SA "Ons Praat Nie Afrikaans Nie, Ons Sing Dit" (We don't speak Afrikaans, we sing it)
6. Bronze for Best Online Newsletter – Sanlam Retail Mass monthly takeover of the Group weekly mailer, providing a version of the Group Weekly that's personalised to Retail Mass employees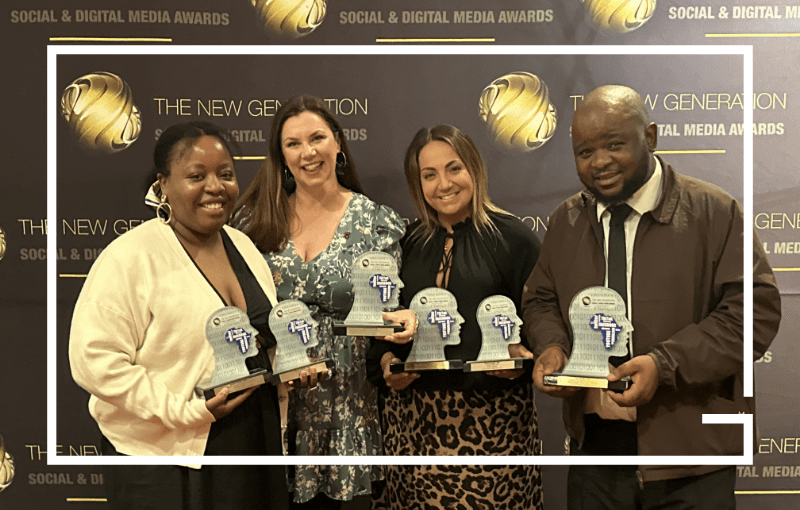 What Our Clients Say

Four of these awards went to the content marketing team who works in partnership with our long-standing clients, Sanlam and Sanlam Reality.  
"I'm extremely proud of these awards, which showcase the innovative, agile work of our marketing team in partnership with Machine_," says Francois Uys, Head: Digital, Marketing and Sales at Sanlam Rewards. "It also shows the appetite in the market for a loyalty programme that delivers meaningful rewards. That this award comes in the same month that we celebrate our 10-year partnership with our creative and content marketing agency, Machine_, is very special," he adds. 

Machine_ is also particularly proud of its Gold win for best online / digital publication for issue 54 of "ngage". "The brand change from TCRS to Nutun was bold and required an intriguing way to communicate this to our staff," says Terri Katz, Strategic Marketing Manager at Nutun.

"By using "ngage" the team at Machine_ creatively showed the shift from the old to the new. Machine_'s creative ingenuity helped Nutun to effectively communicate the brand change to our staff," she adds.  

"Congratulations to the team and thank you for working together with us to take Nutun forward in our global communications."
Get in touch
Like what you see? Want to find out more about Machine_'s award-winning work? Then click here to see what else Machine_ has been up to.
Want to get in touch? You can find Machine_'s contact details here. Additionally, you can send an email to: hello@thisismachine.co.za. Also keep up-to-date with all of Machine_ 's news by following on LinkedIn.