The 2023 IAB Bookmark Awards list of judges has been announced! And Machine_ has three representatives on this year's panel.
The Bookmark Awards consists of jury panels, each led by a jury chair. The Chairs are selected for their level of experience and expertise in their respective fields. The jury panels, led by the Chairs, will evaluate and award the best of the best digital media, marketing and technology work from the past year.
The 2023 Machine_ Bookmarks Judges
Jabulani Sigege, Machine_ Cape Town's Executive Creative Director, has been invited to be this year's Jury Chair on the Marketers panel! "It's exciting to be asked to judge again at this year's Bookmarks Awards. And it's an even greater honour to be Jury Chair of the Marketers Panel," says Jabulani. "I'm looking forward to connecting with my peers and fellow jurors for interesting conversations around all the innovative digital work."
Roderick Laka, Machine_ Cape Town's Creative Group Head has been invited to judge on the Youth Action panel.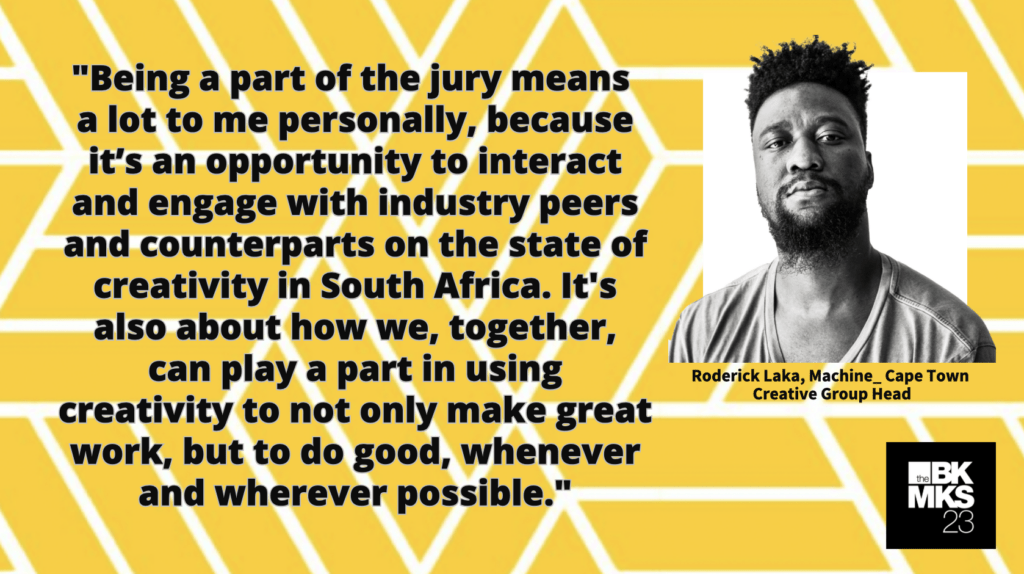 "I'm very excited to be included on this year's judging panel for the IAB Bookmarks. It's a prestigious awards ceremony, recognising the efficacy and excellence of creative, advertising and content marketing work coming out of South Africa. A big passion of mine is nurturing young creative talent. So, I'm particularly excited about being a judge for the 'Youth Action' category and seeing the work produced in this space."
"Being a part of the jury means a lot to me personally because it's an opportunity to interact and engage with industry peers and counterparts on the state of creativity in South Africa." Adding to that, Roderick says: "It's also about how we, together, can play a part in using creativity to not only make great work, but to do good, whenever and wherever possible."
Another Machine_ representative, is Cape Town's Managing Director, Robyn Campbell. And she will be one of the judges on the Special Honours panel. Additionally, Robyn wears the hat of Agency Council Chair of the IAB SA.
More about The Bookmarks
The Bookmarks reward excellence in digital and recognise the powerful impact interactive has on the overall marketing mix. These awards set the benchmark for tech, digital and leading edge innovation. The award-winning work inspires and educates the industry about the power to build brands through creative and high-impact digital executions that deliver measurable results.
The awards are judged in eight categories:
Platforms
Communities
Channels
Emerging Digital Technologies & Channels
Publishing
Campaigns
Craft Awards
Special Honours.

For the full list of judges, click here.
Get In Touch
Want to find out more about Machine_'s award-winning work? Then click here to see what else Machine_ has been up to.
Want to get in touch? You can find Machine_'s contact details here. And send an email to: hello@thisismachine.co.za. Also keep up-to-date with all of Machine_ 's news by following on LinkedIn.